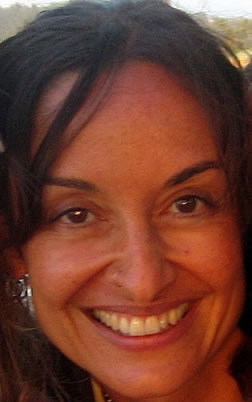 Holistic Therapies and Healing Gifts
The little blue cottage with a wrap-around deck in the parking lot of the Kinipopo Shopping Village is home for Sacred Waters Healing Arts.
We offer high quality :
~ Advanced Therapeutic Massage
~ Lomi Lomi and Hot Stones
~ Somatic Therapy (Rosen Method Bodywork)
~ Acupuncture and Chinese medicine
~ Ayurveda treatments
~ Energy Medicine
~ Lifestyle Coaching
~ Yoga and Chi Gung Classes
Sacred Waters Healing Arts is also the first anchor of the Kauai Inter-Generational Holistic School of Sustainability.
We offer affordable healing sessions and fantastic massages! Come by to pick up our menu and price list, or to discuss the best modality for your needs with our practitioners. Best is to call first if you want to find us available to greet you in person... We look forward to be spending time with you ~

Advanced Therapeutic Massage
Yemaya Renuka Duby, LMT, RMP, RYT
Originally from France, spent 15 years in Northern California and over 6 in Kauai. Her love for humanity, the Earth, and her fascination with the evolutionary and healing process has consistently guided her in the creation of healing centers, artistic projects and sustainable communities forums. She loves her work as a Somatic Rosen Method Practitioner and SoulHeart Evolution Bodyworker, where she can express her expertise of the body and the emotions, and share her magical loving touch. She is Sacred Waters visionary director.
Rosen Method Bodywork ~
With its unique touch and moment to moment presence, the Rosen Method is extremely impactful on both the physical and the emotional body. Spiritual growth, sudden understanding and regained aliveness are frequent gifts of this work which often is able to release chronic pain, tensions and traumas where other methods have failed... It takes into account the whole being, accessing muscles and cellular memory with simplicity, expertise and compassion. Created some 50 years ago by Somatic Therapy pioneer, Marion Rosen, it is a jewel of healing that is slowly gaining the recognition it deserves. Sessions are offered by series or individually.

Call Yemaya at (808) 651-0558 for a free phone consultation.

Website: www.SacredWatersKauai.com
Ayurvedic Massage & Consultations
Sarah Kruse
Ayurvedic Practitioner, LMP, Doula
As an Ayurvedic Practitioner and Massage Therapist, I assist clients in returning to their true nature through Ayurvedic Consultations and nurturing & rejuvenating bodywork. I have chosen to work in the field of Ayurveda for the purpose of bringing healing and awareness to peoples lives so that they can realize their unique life path and contribute their gifts to the world we live in. I am a graduate of The Ayurvedic Institute in New Mexico, where I studied under Dr. Vasant Lad, and have been practicing Ayurveda since 1999 and massage since 2001.
The services I offer are:
* Ayurvedic Wellness Consultations

* Ayurvedic Massage

* Ayurvedic Postpartum Care

* Panchakarma

* Shirodhara Bliss Therapy
Website: www.embrace-ayurveda.com
To make an appointment, call me at: (808) 635-0352 or Email me.
Chinese Medicine, Ahonui Healing Power Adventures
Wanda B. Simmons, MS, L.Ac.
Wanda holds an MA in Traditional Chinese Medicine and a BA in Bio-Sciences from Touro College in New York. Her introduction to this field came in 1993 through the study of internal martial arts systems. Wanda completed several clinical shifts at Lutheran Hospital in Brooklyn, where she provided palliative care for oncology patients, treated patients undergoing orthopedic and neurological rehabilitation, and worked within the labor and delivery care unit. In 2003, she began an apprenticeship under the renowned martial artist and Chinese medical practitioner Tom Bisio.
In 2008, Wanda travelled to China, and gained further clinical experience treating a vast array of diseases. In addition, she joined a non-profit organization focused on bringing medical services to remote villages throughout the world.
In 2010, after running successful practices in both CT and NYC, Wanda moved to Hawaii where she underwent an extensive healing journey. Since that time, Wanda has resumed treating patients and teaching internal martial arts. She is the Founder of Ahonui Healing Power Adventures which offers customized retreats on Kauai.
Call: (808) 212-6021 or Email
Website: www.ahonuihealing.com

Matrix Energetics & Ayurvedic Practitioner
Gabi Schoening

Certified Practitioner for Matrix Energetics, Intuitive, Certified Ayurvedic Practitioner. Gabi has studied Matrix Energetics intensively since 2006.
She completed the certification training and had the joy and honor of observing Dr. Bartlett's work in his office. Gabi has been a facilitator at Dr. Bartlett's workshops in San Francisco, Seattle, Minneapolis, San Diego and Vancouver, BC.
She had her own practice for spiritual energy work in Freeland on Whidbey Island. She has clients in Germany, England, Holland, India, Canada, California, Florida, New York and several other states.
Gabi is also a Certified Ayurvedic Practitioner and has studied at the Ayurvedic Academy at Bastyr in Kenmore, WA. She completed an Ayurvedic apprenticeship program with Kumudini Shoba on Whidbey Island, WA and deepened her studies of Ayurveda in India with Dr. Vishnawathan and Dr. Kumar in Kerala.

Her sessions are a combination of intuitive guidance, psychic readings, coaching, Matrix Energetics and Healing Quantum Dance.
These sessions are liberating and help to remove the obstacles that stand between you and what you desire. Often these obstacles are family patterns, old traumas, unconscious beliefs and thoughts, or fears.
Before anything manifests in the body as a symptom it shows up in your energy field. Even after energy has manifested into a symptom, a new outcome can be created at the quantum level, where we are only patterns of light and information. The photons are free to move into new alignments as we observe different quantum waves in matrix energy work. This can result in astounding new outcomes in your energy, feelings, your approach to life, your self esteem, relationships and health.
Call: (503) 329-6078 or Email
Website: www.DoorToTheLight.com