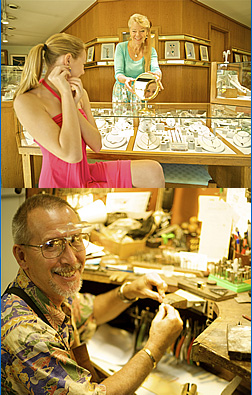 Two Designers - Endless Imagination. One Story - Yours.

Goldsmiths Kauai is owned by a team of talented jewelry designers who have created award-winning designs for over 25 years. Our creations have included sapphires, emeralds, rubies, diamonds, and many other stones. Our first love is to combine those stones with exotic Tahitian black pearls.
Our custom Kauai jewelery designs are created and sold exclusively at our studio, Goldsmiths Kauai. Our designers have won numerous statewide competitions and international awards. Creating custom designer jewelry on Kauai since 1980. Tahitian Black Pearl, Tanzanite, Moonstone, Chrysocolla, Opal, Diamond, Sapphire....


Telephone: (808) 822-4653
Toll Free: (800) 692-7166
Fax: (808) 822-2167
Email: mail@goldsmiths-kauai.com




Open Monday thru Saturday
10:00 am to 5:30 pm
Closed Sundays


Kinipopo Village
4-356 Kuhio Highway
Kapaa, Kauai, Hawaii 96746